Mustapha Farrakhan and The Protection of A National Asset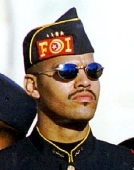 Mustapha Farrakhan and The Protection of A National Asset
By Demetric Muhammad
Minister Farrakhan's life is of extreme value and must be protected!
There are forces within America who would love to assassinate the Honorable Minister Louis Farrakhan.  Minister Farrakhan's wide and far reaching influence and impact far exceeds any Black leader of the past and far exceeds what was enjoyed by any of the former prophets in their life time.  This fact speaks to the reality that Minister Louis Farrakhan exists as simultaneously the culmination and fulfillment of what was expected from both the secular and the sacred traditions. The secular prophets like Garvey, Malcolm X and Martin Luther King Jr. etc. wanted freedom, justice and equality.  The sacred prophets like Abraham, Jesus and Muhammad wanted to bring about the oneness between God and man.  They all were change agents who found themselves situated within corrupt governments who held in various forms of captivity, the masses of the people.  Both the secular prophets and the sacred prophets could be characterized as voices of dissent.  And so is the Honorable Minister Louis Farrakhan.
Within Minister Farrakhan the forces of both social and spiritual change converge.  He represents this phenomenal nexus. Minister Farrakhan's unique and unmatched stature is characterized by a balance of one who speaks truth to power, and rages against the machine of injustice, with one who is a sensitive spiritual teacher who transcends artificial barriers of class, race and religion. As a result he has been both loved and hated.  Those who love and admire him are drawn to a man who is both the rational revolutionary and the militant preacher who weaponizes the word of God to destroy the ease with which the wicked rulers deceive the masses.  Succinctly put, it becomes difficult to lie and deceive the masses, with Farrakhan on scene.  And since un-told sums of wealth are made on the basis of grand deceptions of the ignorant masses, Farrakhan, the truth teller, is hated.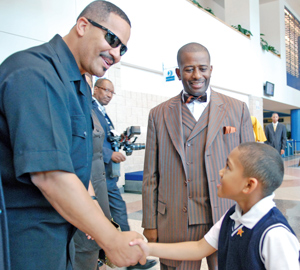 Those who hate him seek to destroy him.  The Minister's enemies today, were Malcolm X's enemies yesterday.  They were Dr. Martin Luther King Jr.'s enemies yesterday.  They were the enemies of Abraham, Moses, Jesus and Muhammad. They were the same enemies of Harriet Tubman, Ida B. Wells and Fannie Lou Hamer.  They seek to take his life, but Mustapha Farrakhan has always stood in their way.  The handsome, articulate and athletic son of Minister Farrakhan and Mother Khadijah Farrakhan was born equipped with all of the tools to be successful in any field he chose.  But he chose to devote his life to the protection of his father, Black America's perennial gallant strong man and last hope-Minister Louis Farrakhan.  In fact there is hardly any public speech made by Minister Farrakhan during the past 36 years where brother Mustapha cannot be seen posted as a sharp-eyed sentinel always within arms-length of his father.  Most of the world was formally introduced to him during his soul-stirring introduction of his father at the Million Man March.
Now reports circulate of a state of Illinois investigation of Mustapha Farrakhan's use of a Harvey, Illinois police car to help provide security for Minister Farrakhan.
This investigation is framed to suggest corruption, malfeasance and deceit.  But, if we "cut to the chase," we understand that the real issue is that Minister Farrakhan is being afforded security and protection, which makes it difficult for his enemies to assassinate him like they have done to other leaders of his kind in the past.  The investigations suggest that there is something strange about a public-private partnership to safeguard and protect the life of a global dignitary.  Public-private partnerships are used to build arenas, coliseums, to develop real estate and to do all manner of projects deemed to be in the best interest of the public.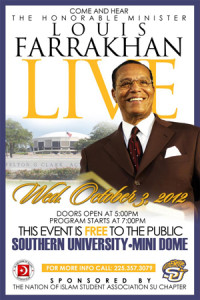 Recently, the police chief in Baton Rouge, Louisiana came under criticism because he provided a security escort for Minister Farrakhan to travel and speak to Black college students at Southern University.  Minister Farrakhan's enemies were angry because the chief spent $2,456.96 in overtime to officers who were dispatched to the Southern University detail.  Compare that to the city of Memphis, TN which recently spent $175,585 to local, county, state and federal law enforcement agencies to secure a Ku Klux Klan rally.  Clearly what Baton Rouge spent on the Minister paled in comparison to what Memphis spent on the nefarious KKK.
Most municipalities consider this kind of use of the public resources wise expenditures whenever there is a threat to public safety or whenever their city is hosting a personality whose life is of national and international importance.  In fact, the history of the Nation of Islam shows that the Most Honorable Elijah Muhammad first received police escort and security in 1959 for his historic Uline Arena address in Washington, D.C.  And this was after he had served time in a federal prison from 1942 to 1946.  Yet his stature as a national leader of the Muslims compelled the authorities in Washington, D.C. to do the right thing.
The problem is that there are hidden forces who want to see Farrakhan destroyed.  But why is the Minister so hated? We should ask the question that Jesus asked of his accusers, "For which of Minister Farrakhan's good works do you stone him for?"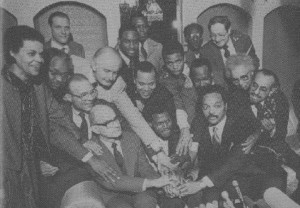 Rev. Wyatt Tee Walker writes in his book "Road To Damascus," that Minister Farrakhan's ability to offer prayers in the Arabic language greatly impressed Syrian officials in 1983, when the Minister traveled as support for Rev. Jesse Jackson's efforts to free Lt. Robert Goodman, who was being held by the Syrians as a P.O.W.  Rev. Jackson and his delegation were successful in gaining a release for Lt. Goodman.  Could Minister Farrakhan's willingness to travel thousands of miles away from his home to go to a war zone and free an American pilot be the reason his enemies seek to take his life?
Or do Minister Farrakhan's enemies want to stone him for the Million Man March?  According to what was reported in the USA Today October 10, 1996 edition by Gary Fields and Maria Puente, the Million Man March is directly responsible for 150,000 voter registrations and potentially responsible for 1,000,000 voter registrations.  The article goes on to quote Leonard Dunston, president of the National Association of Black Social Workers, who reported that "more than 300 children have found homes as a direct result of the Million Man March."   Moreover, the article reports that Minister Farrakhan inspired 100 black men in Denver, Colorado to go "door-to-door in a neighborhood after a 3-year-old was killed in a drive-by shooting, seeking information. In a neighborhood not known for cooperating with police, their efforts helped lead to an arrest."

Minister Farrakhan has always inspired and motivated men to be courageous, bold and brave in the protection of our families and communities.  Perhaps it is because of his work in the crime-filled and violent streets of Chicago that his enemies want him destroyed?  In 2012, at 79 years of age, Minister Farrakhan personally led the men of the Nation of Islam into the various communities of Chicago to talk to community residents about bringing about an end to the violence.  An article by Chicago Sun Times writer Mary Mitchell says, "It was historic. I had residents crying — men and women that have been in the community fighting — crying to see it," said Ald. Latasha Thomas (17th Ward). "The minister had 500 well-dressed, well-spoken black men in suits go out on the street… In a written response from the Chicago Police Department, Police Supt. Garry McCarthy appears to support the actions taken by the Nation of Islam.  "The Chicago Police Department welcomes the support of faith-based organizations to help lend a voice to the violence and other challenges affecting our neighborhoods and most importantly, our children," the statement concluded."
In the aftermath of the Minister's work in the Chicago community, NBC News reports that "In the first quarter of the year, murders dropped 42 percent over the same period last year and shootings were down 27 percent — reductions that authorities say were fueled by anti-gang initiatives." The Minister is not one to grand stand and boast taking credit for this reduction, for there is still much more work to be done.  However as a major stakeholder within the city of Chicago, the Nation of Islam under his leadership certainly shares credit with all of the community stakeholders and entities who work hard to restore peace and make Chicago a safe place to live.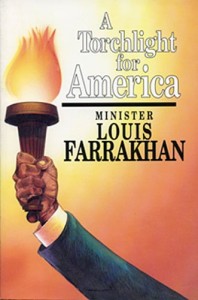 The Minister's work has been lauded by many.  When Minister Farrakhan, in 1993, turned his attention to focus on the ills of all Americans and published his first book "A Torchlight for America," he delivered a speech at the National Press Club in Washington, D.C.  In reaction to the Minister's historic presentation, writer Debra Hanania Freeman wrote the following statement.  "Hearing Farrakhan in person for the first time was clearly startling to many of those gathered who had only read news accounts of him circulated by his enemies. But Farrakhan's wit, vitality, and most importantly, his humanity, were irrepressible.  Farrakhan is, without question, a far different man than the sound-byte target that the Anti-Defamation League (ADL) of B'nai B'rith has constructed….Clearly, Farrakhan came to Washington to deliver a message and to offer his help to a troubled nation. He is a national asset whose voice should be heard."
National assets are protected.  And the resources of the nation are used to protect them.  There is nothing wrong with Harvey, Illinois or any other city partnering with the Nation of Islam to provide security for Minister Farrakhan.  As we have pointed out, Minister Farrakhan's work and that of his followers is a real blessing to cities and towns throughout America.  The real investigation should be in seeking to learn from Mustapha Farrakhan and the men of the Nation of Islam so that stronger public-private partnerships can be created with the Nation of Islam for public safety and community development.