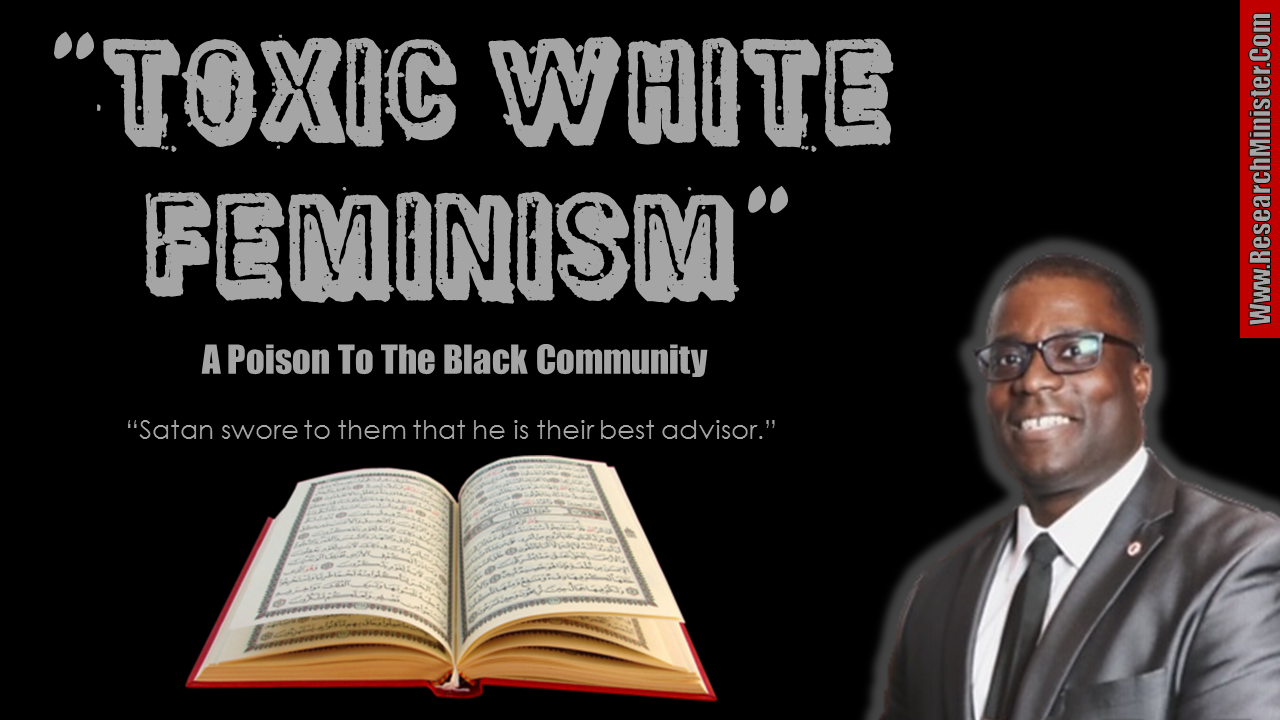 In the light of current events where white feminists seek to void the bond of unity and familial solidarity between Black women and Black men; ResearchMinister.Com is proud to post this new educational film by Student Minister Ilia Rashad Muhammad.
The Holy Qur'an warns the righteous that the prime tactic of Satan is deception; and  that Satan portrays himself as a "sincere advisor" to all who would listen.  Those who follow the advise of the devil are lead in the opposite direction of that which they desire and seek after.   As women rise globally to reject what has been dubbed as "patriarchy" and "toxic masculinity", they are frequently "advised" by white feminists.  Yet it is hard to believe that white feminists, who have been protected, provided for, supported and have all around benefited from the white male's global domination and subjugation of people of color, would now become an adversary to the white male by standing in solidarity with women of color.
Their "sincere advice" is a ruse , an artifice and trick.  Even after candidate Donald Trump was exposed, boasting about using his celebrity status to grope and assault even married women, more than 50% of white female voters voted for him.  The modern mother of the white feminist movement – Gloria Steinem was, at the time of her work promoting the white feminist ideal, a CIA operative.  White feminists while seeking to convince women of color that gender is more important than race and ethnicity, continuously act in ways that prove they believe whiteness will always be prioritized over gender.  In truth, toxic masculinity is the academic term used to describe the type and and nature of the masculinity used in creating and maintaining American imperialism and European colonialism.
Toxic masculinity is the masculinity of Christopher Columbus, Sir John Hawkins, George Washington, Thomas Jefferson and all of the traders, slavers and colonizers.  Its residue has without a doubt stained the masculine ideals of oppressed men, who oft-times mistakenly pattern themselves after the white male.  But our journey to wholeness and mental and spiritual restoration must involve our relinquishing the ways, patterns, attitudes and habits of the one that we have colloquially referred to as "the man."  "The man" must not be allowed to teach us how to be men, because he will make us a replica of hiself.  We must take a pattern after God and use his divine attributes and principles to build our manhood around.
Please watch it and share it to help strengthen the divine rise of women which is  a part of the divine rise of the oppressed people of the world.