An Invincible Truth: The Hon. Elijah Muhammad Pittsburgh Courier Articles Collection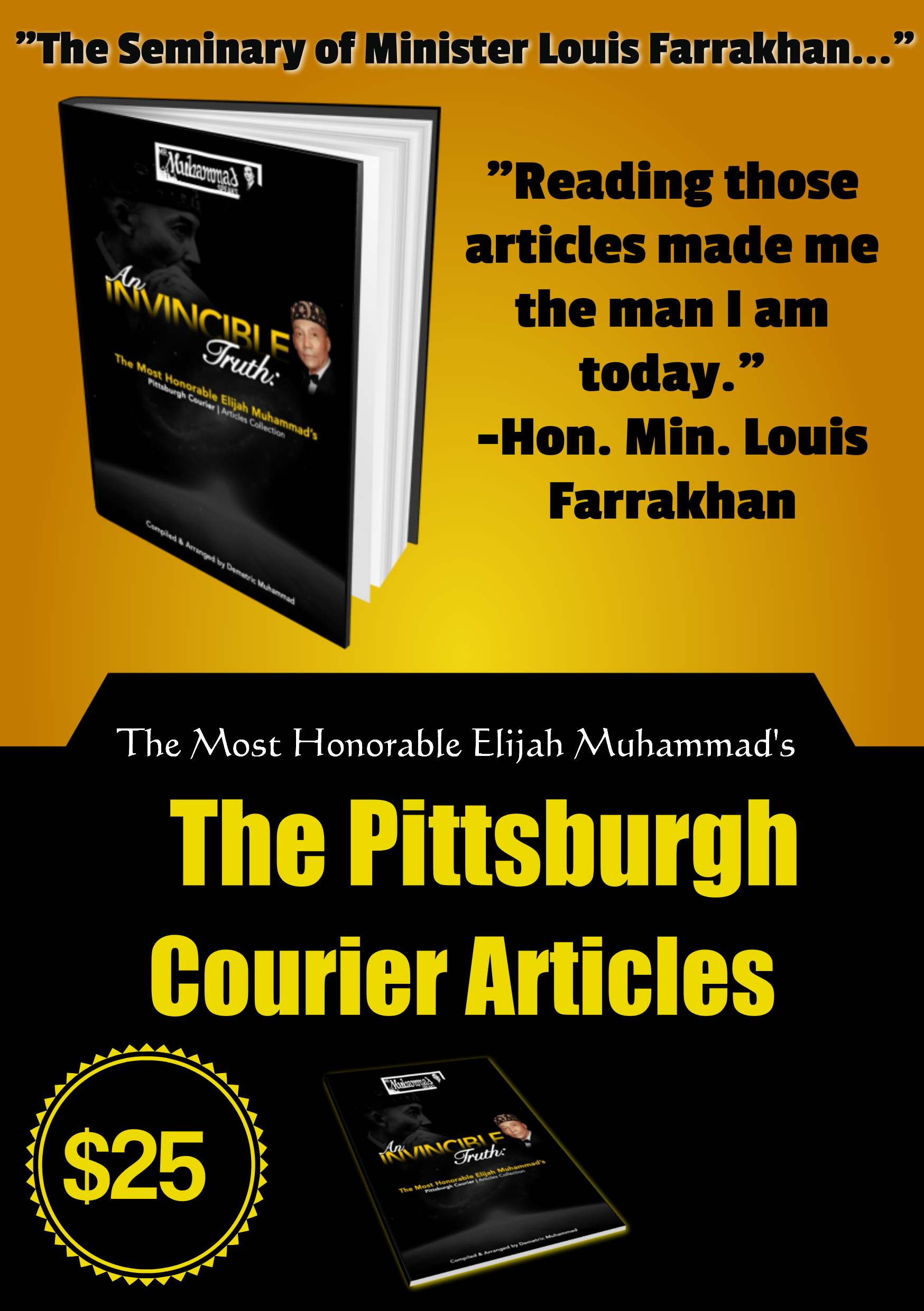 A Special New Book that is affectionately referred to as "the Seminary of Minister Louis Farrakhan."  It contains all of the Most Honorable Elijah Muhamad's early writings, specifically the 3 years worth of articles published in the historic "Negro Press" newspaper entitled The Pittsburgh Courier.  This tour de force 400 plus page book contains original unedited articles covering a wide array of subjects and categories.  A must have and much needed addition to your library.
It is my desire that this volume of magnificent articles written by the Most Honorable
Elijah Muhammad will help to re-introduce him as the great man that he
is, one who is worthy of respect, admiration and love. In this way, this volume
can be considered as complementary to the work of the Honorable Minister
Louis Farrakhan whose tour de force ministry has put the Most Honorable Elijah
Muhammad and his teachings on the hearts and minds of men and women around
the globe. Both men have been so terribly maligned by the mainstream media
and many in the academic world. There are many, particularly those who are
dubbed the millennial generation, who really don't know who the Honorable
Elijah Muhammad is. And they are woefully ignorant of the enormous good that
he produced and is producing among Black people that also positively impacts
American society as a whole. I am personally offended by this grievous treatment
of the Most Honorable Elijah Muhammad and Minister Farrakhan. I consider
it to be unacceptable that such wonderful leaders, teachers and guides have
to suffer being marginalized and evil spoken of.
Every year during February-Black History Month I am reminded of the deliberate
plan at work to hide the Most Honorable Elijah Muhammad. During this
month where many great luminaries, revolutionaries and accomplished Black
men and women are remembered and celebrated, one man is skillfully omittedthe
Most Honorable Elijah Muhammad. He is hidden from the masses while academics and historians crucify his reputation on the pages of academic journals
and history textbooks.