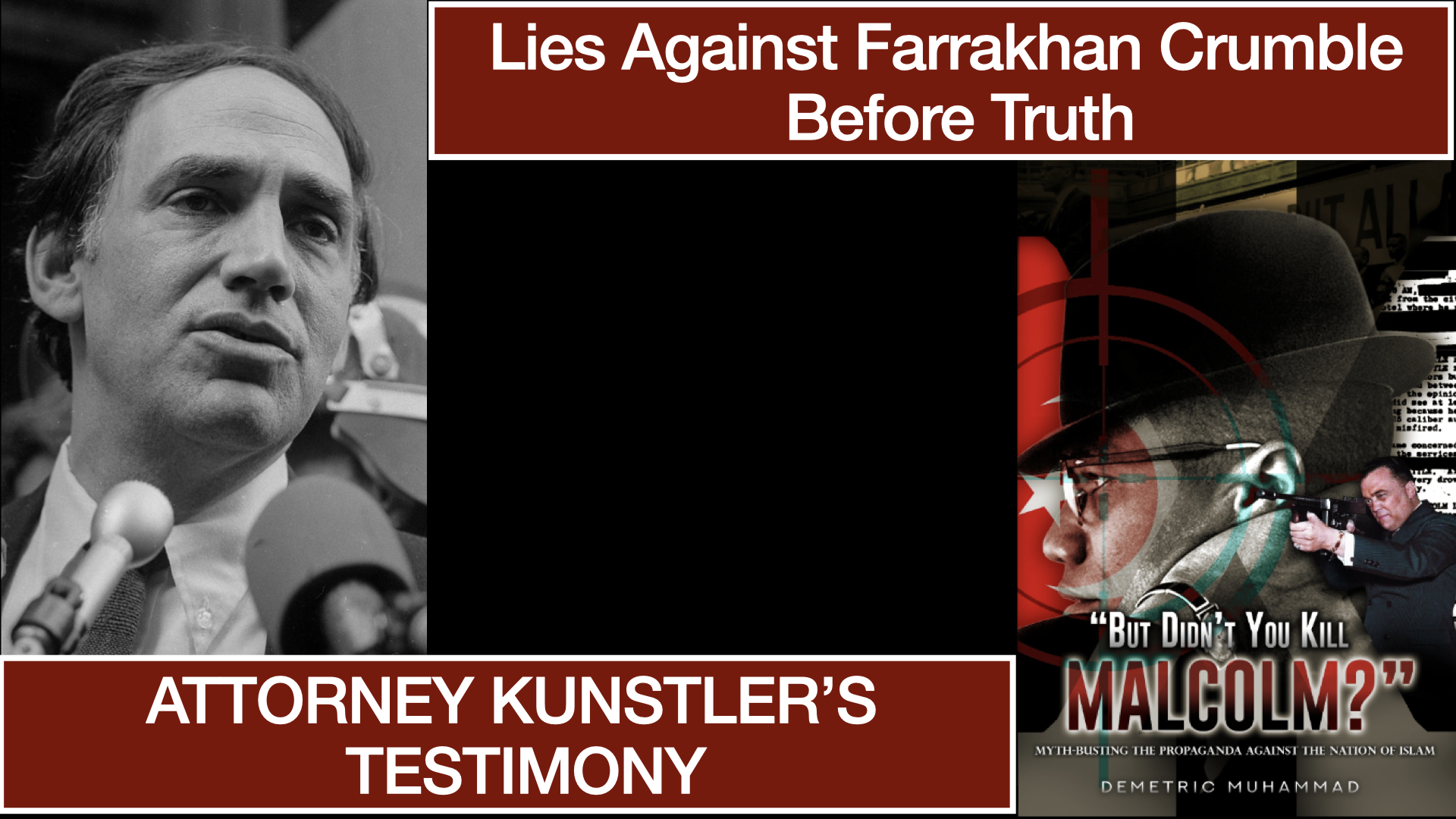 Attorney Kunstler, Myth-Busting The Lies Against Minister Farrakhan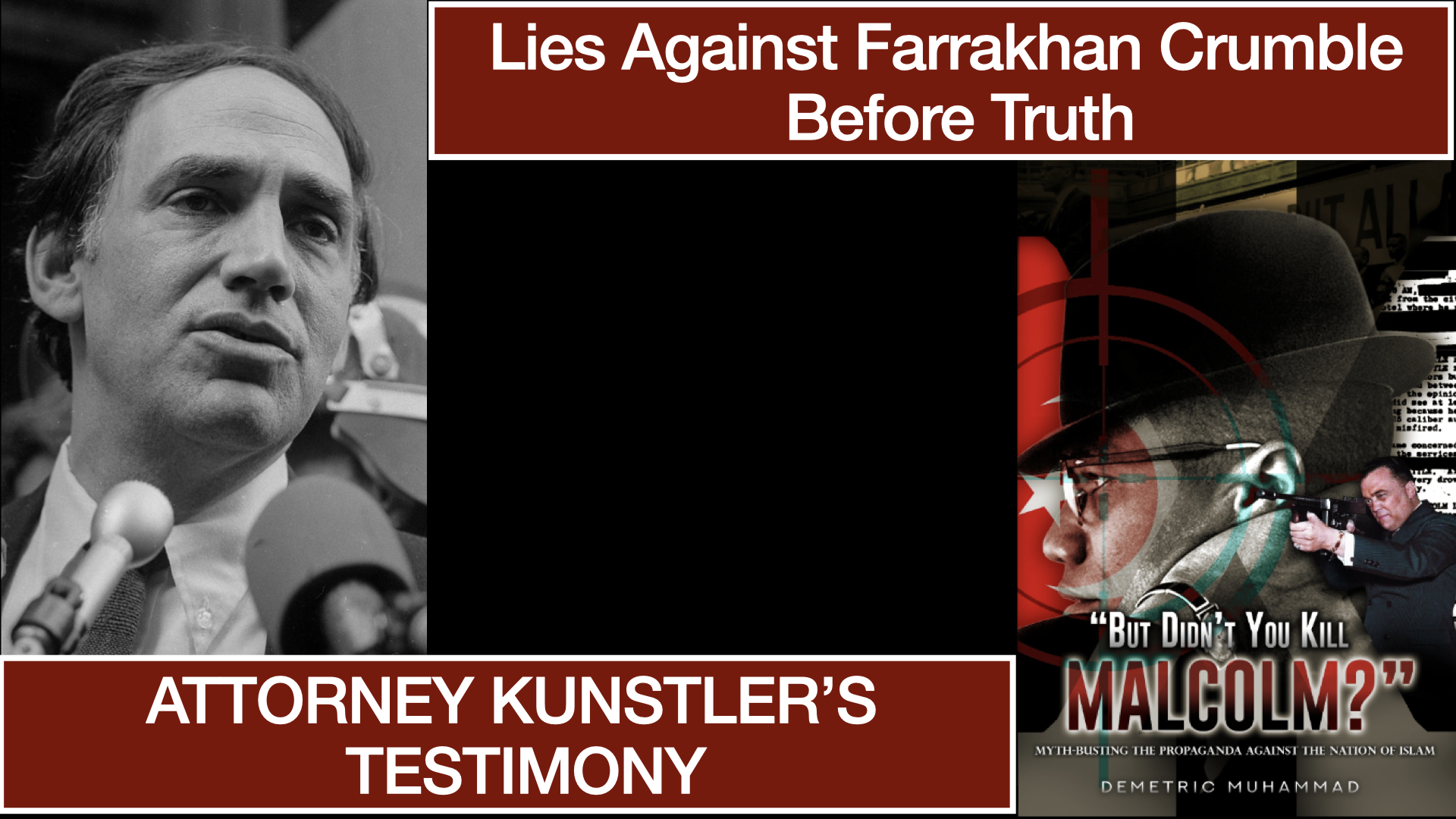 THE FOLLOWING IS EXCERPTED FROM THE GROUND BREAKING NEW BOOK ENTITLED: "BUT DIDN'T YOU KILL MALCOLM: MYTH-BUSTING THE PROPAGANDA AGAINST THE NATION OF ISLAM.  GET YOUR COPY TODAY!
Legendary civil liberties attorney William Kunstler submitted an affidavit in support of the Nation of Islam's lawsuit against the New York Post in 1994.  The law suit challenged Rupert Murdoch's news organ and the writer Jack Newfield regarding their plan to run a 16 part series claiming Minister Farrakhan was responsible for the assassination of Malcolm X.
Consider this important excerpt from Attorney Kunstler's affidavit.  He is not a Muslim; he is an informed observer providing an objective statement on Minister Farrakhan's innocence.  According to Attorney William Kunstler:
"In February of 1978, I obtained an affidavit from Mr. Hayer in which he recounted how many assassins were involved, who they were, and how the murder had been arranged.  Hayer said that he planned the entire plot, bought the weapons used, made the diversionary smoke bomb, and planned and orchestrated the assassination….There is absolutely nothing in this affidavit which remotely implies that Minister Farrakhan had anything to do with the assassination and I do not believe, from my own investigation, that he had any information that Malcolm X was going to be murdered by Mr. Hayer and those whom he has named as his accomplices.  During my numerous discussions with Mr. Hayer, he related the whole story to me, furnishing the names, descriptions, occupations, and addresses of those accomplices.  Nowhere, and at no time did he mention any participation by Minister Farrakhan in the assassination."
Attorney Kunstler continued to join the chorus of conscientious American citizens who have sadly acknowledged the Federal Bureau of Investigation's long career of functioning as professional grade saboteurs of the movement among Black people for freedom and justice.  Kunstler continues:
"There is overwhelming evidence, including that amassed by the Select Senate Committee to Study Governmental Operations with Respect to Intelligence Activities (the Church Committee), 94th Congress, First Session that the Federal Bureau of Investigation (FBI) instigated or encouraged the murder of Malcolm X.  After the latter's death, Director J. Edgar Hoover issued a directive forbidding his agents from participating in the ensuing murder investigation.  Significantly, there was a FBI report on January 22, 1969, from the Special Agent in Charge of the Chicago resident agency claiming success in causing or exacerbating "factional disputes" in targeted organizations, including the Nation of Islam, "the most notable being Malcolm X. Little."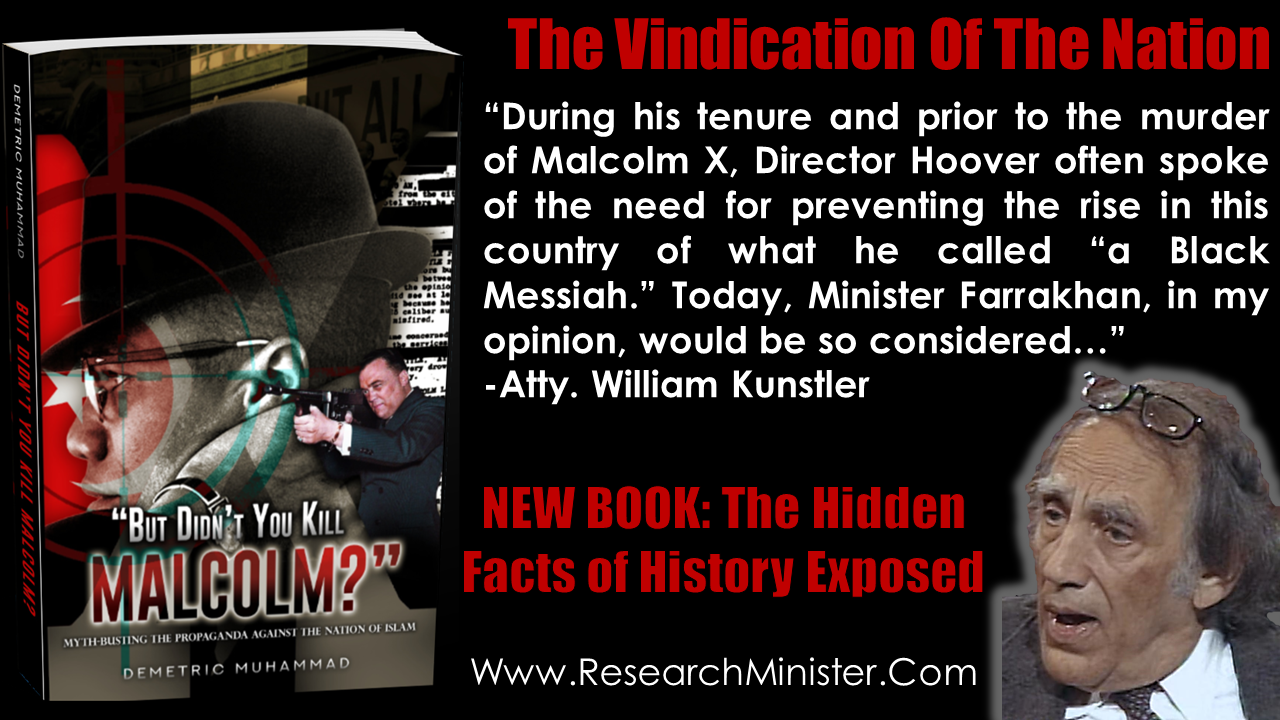 Kunstler concludes his important affidavit by forthrightly identifying Minister Farrakhan as the feared "Black Messiah" that J. Edgar Hoover's COINTELPRO operation was designed to destroy.  He states:
"During his tenure and prior to the murder of Malcolm X, Director Hoover often spoke of the need for preventing the rise in this country of what he called "a Black Messiah."  Today, Minister Farrakhan, in my opinion, would be so considered, placing him in great jeopardy.  I am firmly convinced that the recent charges brought against Qubilah Shabazz, Malcolm's second daughter, in the federal District of Minnesota were instituted in order to stimulate someone to assassinate Minister Farrakhan just as Hayer and his associates had been so stimulated with retaliation to Malcolm X thirty years ago."
ORDER YOUR COPY TODAY: https://shop.researchminister.com/collections/frontpage/products/new-book-but-didn-t-you-kill-malcolm-myth-busting-the-propaganda-against-the-nation-of-islam