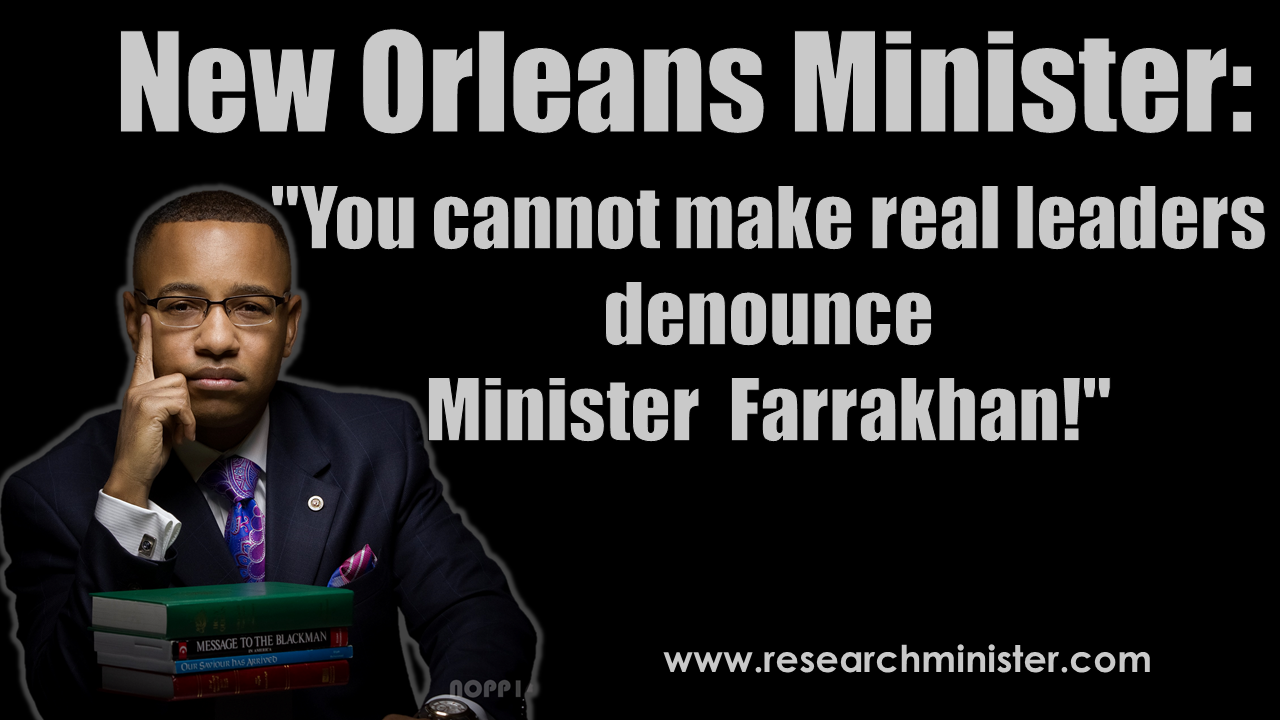 NEW ORLEANS MINISTER: "You cannot make real leaders denounce The Hon. Min. Louis Farrakhan!"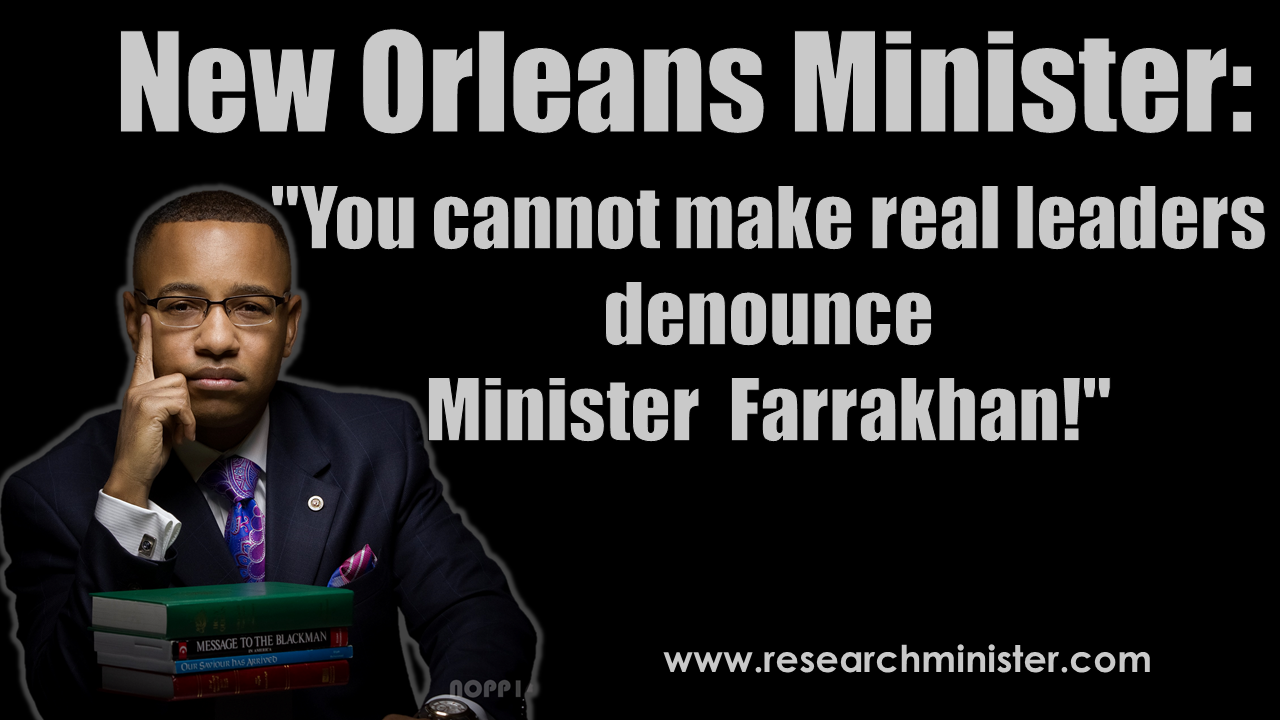 There is a mounting chorus of voices rising to fight the onslaught against the freedom of speech in America that has targeted the magnificent message of the Honorable Minister Louis Farrakhan as its most significant adversary.  Criticism of the state of Israel; criticism of Jewish organizations regardless to how measured and carefully stated is being falsely labeled as "anti-Semitism".  To this , Minister Farrakhan's gallant and courageous students are vehemently defending his noble name and reputation.  Today, ResearchMinister.Com is honored to share with its readers the defense of Minister Farrakhan by his New Orleans representative, the Minister of Muhammad Mosque No. 46-Student Minister Willie Muhammad.  Please Read, Reflect, Act & Share
The New Testament is one of the fantastic series of religious scriptures that are great to read if we desire to understand the Honorable Minister Louis Farrakhan and the controversy that surrounds him because he has the courage to unapologetically challenge the ruling forces of America and dismantle the ideology that is the fabric of this country. The Honorable Minister Louis Farrakhan, like Jesus has had his words purposely misconstrued. The Honorable Minister Louis Farrakhan's enemies, like the enemies of Jesus, were members of the powerful ruling class, such as religious leaders, political leaders and news agencies of his time. The Honorable Minister Louis Farrakhan, like Jesus also was falsely labeled with titles that were diametrically opposed to who he is and what he represents. The recent failed efforts to get one of the prominent organizers of the Women's March to denounce the Honorable Minister Louis Farrakhan has made me reflect on another similarity between the opposition faced by Jesus and the Honorable Minister Louis Farrakhan.
While Jesus traveled to and from giving life to the dead, helping to heal the sick, and exposing the hypocritical leadership, there were secret meetings being held by those who hated Jesus for the sole purposes of discrediting him, destroying his mission and planning his death.
"Then the leading priests and the older Jewish leaders had a meeting at the palace where the high priest lived. The high priest's name was Caiaphas. 4 In the meeting they tried to find a way to arrest and kill Jesus without anyone knowing what they were doing. They planned to arrest Jesus and kill him. 5 They said, "We cannot arrest Jesus during Passover. We don't want the people to become angry and cause a riot." Matthew 26:3-5
The SAME is unquestionably true when it comes to the Honorable Minister Louis Farrakhan as well. The orchestra of news articles and television coverage aimed at painting the Honorable Minister Louis Farrakhan as a homophobic, an Anti-Semite and many of the other false charges are not by accident. Here four years ago with virtually NO mainstream media coverage, the Honorable Minister Louis Farrakhan was able to draw one million people again (most of them millennials) to the Nation's capital twenty years after the historic Million Man March. The media said nothing before nor afterwards. Yet, he declares that he is anti-termite and nearly every media outlet joined the effort to repeat the lie saying that he called Jews termites! When he actually said the following…
"When they talk about Farrakhan, call me a hater, call me an anti-Semite; stop it I'm anti-termite. I don't know anything about hating anyone because of their religious preference. But just like they called our ancestors in the 1930s "voodoo people," they figure "anti-Semite" would be a good thing to put on us. Farrakhan hates Jews. Stop it. You cannot find one Jew that one who follows me has plucked one hair from his head. You haven't found us defiling a synagogue. Our Qur'an teaches us if we see something like that stop it. They call me anti-Semitic. No, you are anti-Black. Now I'm talking to the anti-Black White folk." Source: Oct. 14, 2018 to mark the 23rd anniversary of the Million Man March and Holy Day of Atonement in Detroit at the newly-named Aretha Franklin Amphitheater.
The enemies of the Honorable Minister Louis Farrakhan, the Nation of Islam and Black people –ADL & the SPLC – seized this moment to execute their planned expressed in its Civil Rights Division Policy Background Report ~ Mainstreaming Anti-Semitism: The Legitimation of Louis Farrakhan. In this memo the ADL acknowledges that any attempt to make the Honorable Minister Louis Farrakhan bow is an exercise in futility, "ADL is not going to make Farrakhan go away." However, they mention several times that they will instead put pressure on other Black leaders and organizations. "What we can and should do is impose an obligation on those who deal with him, or, as in the case of universities, give him a platform. In each case, the burden should be on those who give Farrakhan some measure of credibility to insist that he act responsibly, and put a lid on his bigotry and anti-Semitism."
This is what we are seeing when demands are placed on people like Dr. Marc Lamont Hill, Tamika Mallory, Congressional Black Caucus, Hip-Hop artists, pastors and others to denounce the Honorable Minister Louis Farrakhan as an Anti-Semitic. It's all part of a strategic plan! Make no mistake about it. The journalists recycle the same lies in all of their stories! Farrakhan Praises Hitler as a Great Man! Farrakhan Calls Judaism a Gutter Religion! LIE, LIE and more LIES! Whenever a public figure speaks favorably about the Honorable Minister Louis Farrakhan WITHOUT fail they usher out some Negro politician or whomever needs their money to come out and describe the Honorable Minister Louis Farrakhan in some unfavorable terms. The most recent example, yet again is the Congressmen from Texas, Al Green! It's no coincidence that as social media has been set ablaze with the POWERFUL example of Tamika Malory standing her ground on MAJOR media outlets about her respect and admiration for the Honorable Minister Louis Farrakhan's track record within the Black community, we hear of a statement by the Congressmen saying the Minister is a bigot. This is all a part of the strategy to counter the Honorable Minister Louis Farrakhan! What we are witnessing is the execution of those secret meetings about the Honorable Minister Louis Farrakhan, like those that were written and held about Jesus!
"ADL's National Executive Committee will be discussing the legitimation of Farrakhan at the upcoming meeting in Palm Beach. Regional boards and national committees are therefore invited to share their thinking on the subject of this backgrounder in advance of the Palm Beach meeting."
"Then the chief priests and the Pharisees called a meeting of the Sanhedrin. "What are we accomplishing?" they asked." ~ John 11:47
The beauty of all of this is that they are failing in their attempt to get Black people to separate from a man that has impacted their lives or the lives of family members directly or indirectly! The enemies of the Honorable Minister Louis Farrakhan and Black people were upset when the Minister set on the stage during Aretha Franklin's funeral. We are witnessing a breaking of their power over the minds of our people ESPECIALLY the new Black millennial leaders! The new leaders do not seek the stamp of approval of those who have no track record remotely close to that of the Honorable Minister Louis Farrakhan! The new crop of leadership sees this effort as the height of hypocrisy and yet another form of the slave master trying to dictate to Black people who we should love and see as our leaders! Check out the words of Bishop Talbert Swan…
"For far too long, white folks have tried to convince us who are the respectable and responsible Blacks that we should embrace and the disreputable and irresponsible ones we should reject. These decisions are always based on what's in the interests of their agendas and not of the Black community. In essence, Black people are fed up with white folks dictating who our leaders should be and who we are allowed to respect or support. Thus, Black people often rally to protect people who they may not necessarily agree with or even like, but because they have been attacked by a historical enemy that has never acted in the interests of our people. The arrogance of white folks to determine who we must reject will always be met with cynicism and rejected by the masses of Black people. For sure, those in fear of losing status, opportunities or livelihood will buckle under the pressure of losing something. However, those with nothing to lose will always reject the demands of their perceived oppressors."
There are masses of Black people who do not care to be your slaves anymore! They do not care to have nearness to you nor the trinkets that you offer them and the Honorable Minister Louis Farrakhan is a MAJOR role for them feelings this way! Any Black person who would denounce a man that has placed his life on the line to fight to free us from the grips and harmful impact of white supremacy should be excommunicated from the Black community! Could you imagine contemporary leaders during time of Moses and Aaron, when the Hebrew people were witnessing Pharaoh's oppression in the form of social engineering to kill their male and exploit their female children and creating economic policies based upon race, hold press conferences, release statements condemning Moses and Aaron as bigots, racist or Anti-Pharaohites, because they BOLDLY challenged the evil of Pharaoh? Imagine Mary and Martha in the New Testament being asked to condemn Jesus as a hater of the Jewish people, by those religious leaders who did NOTHING to bring their brother Lazarus back from death? When Jesus was the one who traveled from a far distance to free Lazarus from the condition that the enemies of Jesus put him in! This is EXACTLY what is being planned by those who are enemies of the Honorable Minister Louis Farrakhan and Black people! But Allah is the Best of Planners!
Allah says in the Quran how Satan plans, but also how He plans. The plans of Allah always supersede and defeats the plans of the enemies of Allah's servants! If we study the Honorable Minister Louis Farrakhan we will see how he maneuvers around their evil plans to keep Black people and other ethnicities deaf, dumb and blind.
In the memo put out by the ADL they mention how they have worked to pressure and scare university presidents from inviting the Honorable Minister Louis Farrakhan to their campuses. "…the League has also urged university officials to distance themselves from him, to deny him formal university sponsorship…" The Minister decided to cover for his own travel expenses and doesn't accept honorariums and ended up speaking in numerous colleges all over the country over the last few years.
In the memo the ADL speaks about preventing the development of relationships between the Honorable Minister Louis Farrakhan and Black leaders. While the ADL worked hard to be the gatekeeper with the old leadership the Honorable Minister Louis Farrakhan, with the use of social media and a cadre of young leadership in the Nation of Islam, forged relationships with Black Lives Matter activists and many more, young men and women who do not care to follow the path of Civil Rights leaders of the past!
Now, on a daily basis hundreds of thousands of youth are viewing clips of the Honorable Minister Louis Farrakhan on Twitter, on Instagram on YouTube, Facebook etc. This is the real reason behind the effort to have him removed from social media! They seek to prevent people from having a direct connection to the Honorable Minister Louis Farrakhan's words! Those of us who love the Minister can immediately post and share the Honorable Minister Louis Farrakhan's actual words and not the trash that is written in these newspapers and shown on these media outlets so-called news!
Anyone that asks us to denounce the Honorable Minister Louis Farrakhan should go to hell! The Honorable Minister Louis Farrakhan is our champion and super hero against white supremacy! We are not seeking the white stamp of approval for our true Black leaders!
I personally would not be pleased with knowing that many in and outside of the Nation have read this article. What would please me is YOU being moved to action based upon what YOU read. Here are some simple courses of action you can take.
#1 – After reading this article go post a clip of the Honorable Minister Louis Farrakhan on your social media, tag several people, share several clips and go to either of the Honorable Minister Louis Farrakhan's social media pages and let him know you stand with him and that you are not falling for the lies that are being put out by his enemies and the enemies of Black people! We have posted a link to a playlist of videos that would allow you and others to hear the TRUE words of the Honorable Minister Louis Farrakhan about Hitler, members of the Jewish community, women and much more.
Defending Farrakhan Playlist – https://youtu.be/cceQ2T5vWJw
#2 – Use these hashtags when you post about the Honorable Minister Louis Farrakhan on social media. #HandsoffFarrakhan #Farrakhan #DefendingFarrakhan
#3 – Follow the Honorable Minister Louis Farrakhan on his social media pages if you don't already. If you do follow him encourage others to follow him. This will allow you and them to have access to his direct words.
#4 – Read the scholarly articles by Brother Demetric Muhammad on his page. Our brother has great resources that can help all of us in our understanding and defense of the Honorable Minister Louis Farrakhan.
https://researchminister.com/category/blog/
#5 – When we hear or see people online attacking and lying on the Honorable Minister Louis Farrakhan simply post one of the links from the playlist we posted above. Doing so will directly combat their lies.
#6 – Order and READ the books the Secret Relationship Between Blacks and Jews (Vol. 1, 2 &3)
https://store.finalcall.com/search?q=secret+relationship
Twitter – @Browm46      Instagram – Brother_willie
Youtube – Mosque46av  Website – www.noineworleans.com