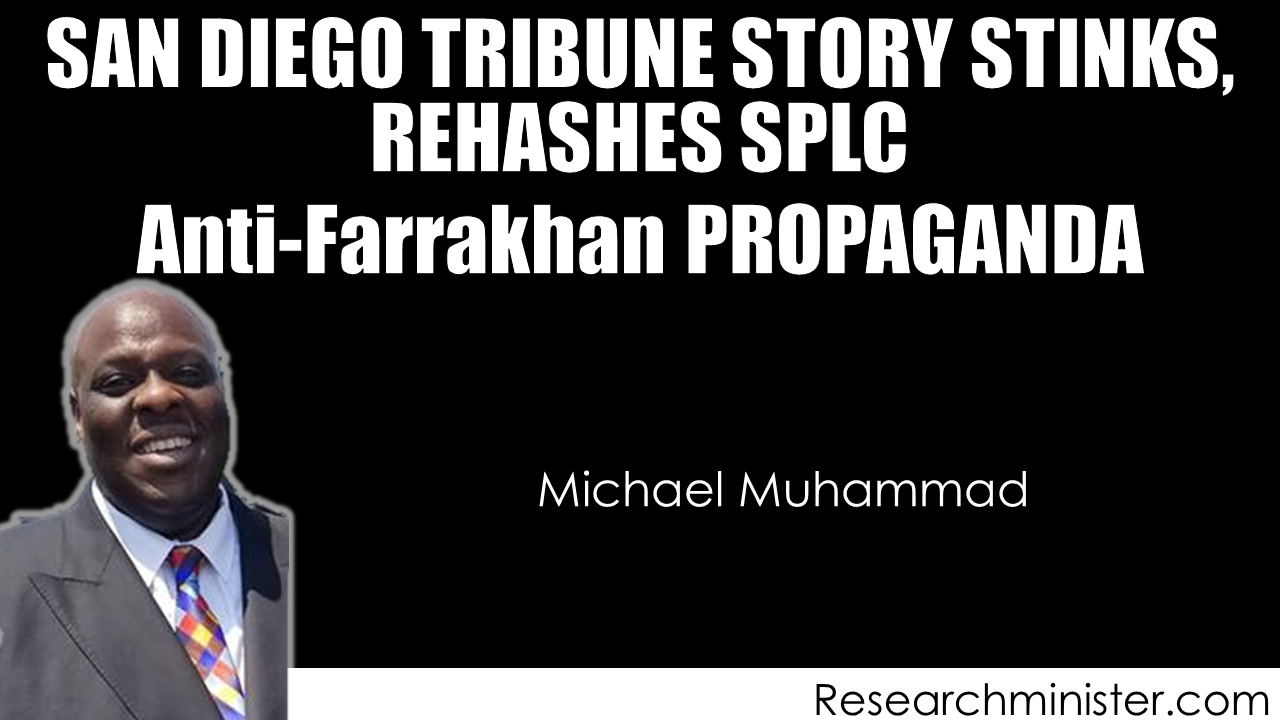 SAN DIEGO TRIBUNE STORY STINKS, REHASHES ANTI-FARRAKHAN PROPAGANDA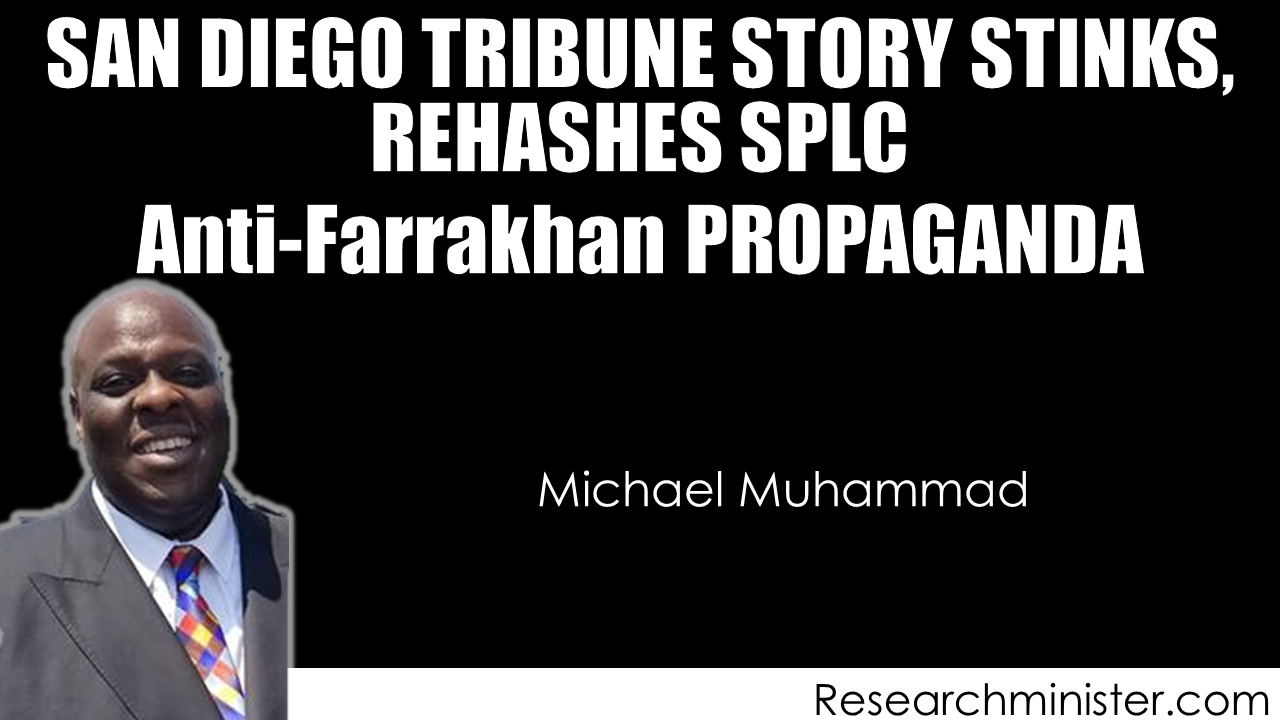 The San Diego Union-Tribune has published a slanderous and defamatory article that was an inaccurate and deceptive depiction of the "Black Nationalist" movement, in particular the Nation of Islam. The title of the article, "Which Hate Groups are Operating in San Diego?", was published on the San Diego Union-Tribune website on May 26, 2019. The preface of the article  is to propagate the "so-called" findings of the, notoriously hateful and bigoted Israeli Lobbyist and Division of AIPAC known as the Southern Poverty Law Center (SPLC) and Anti-Defamation League (ADL).  The SPLC and the ADL have "advised" governmental agencies across America as to potential threats based on the bias of Israeli political interests.
The SPLC as well as the ADL have utilized their influence for intimidation and subversive tactics to neutralize the critics of Israel and the Jewish community. Through their dossiers and intelligence reports, they manipulate governmental agencies such as the Department of Homeland Security, the IRS, and even Congressional oversight Committees.  And they have also negatively influenced local police to view their enemies as the enemies of the American people. Your source, Matt Wagner (ADL's Associate Director for Law Enforcement Initiatives and Community Security)is a perfect example of the intermingling of these Jewish groups, the American government and law enforcement agencies.  Mr. Wagner's bio lists him as:
"Matt comes to ADL from a career in federal law enforcement and diplomacy, having served as a Special Agent with the U.S. State Department's Diplomatic Security Service. He served tours in New York, NY; Algiers, Algeria; Paris, France; and on the FBI's Joint Terrorism Task Force in San Francisco, with shorter missions in over a dozen U.S. states and more than 20 countries…"
Mr. Wagner's prior work for the American government and current work for the ADL highlights the intertwined nexus of persons and groups that go back and forth from governmental jobs to private sector work on behalf of the Israeli special interest groups.  The SPLC has been, and continues to be, a force bent on intimidating Black leadership that does not conform to its desires, using the IRS, FBI and governmental other agencies as their own law enforcement.
Shockingly, it was the first president and lifelong Board member of the Southern Poverty Law Center, Julian Bond , who spoke with and had a peaceful relationship with the Leader of the Nation of Islam, the Most Honorable Elijah Muhammad. Below is an excerpt from an exclusive interview with Muhammad Speaks in 1971, commenced by correspondent Bob Dale. This was the same year that Julian Bond became the first president of the Southern Poverty Law Center:
"I have a great deal of respect and have met and have been in Mr. Muhammad's house. I was very fortunate and honored to have had a meal with him in 1968. He, like me, is from Georgia you know. I don't know if that means that we "Georgia boys" like to stick together. (It's okay for us to call ourselves boys.) But I have a great deal of respect for him particularly for the kind of discipline he imposes and the Muslims accept. I think that is what we need. Things like this (cigarettes) you know – drinking and running around at night – are things we need to try to eliminate if we can. It takes more people to do it. But I think over the years the Black people have come to have respect for Mr. Muhammad. Partly because we have had more respect for ourselves as a people and partly I think it is because we have had more exposure to Mr. Muhammad's philosophy. We just found out more about it ourselves than having to be told about it by other people."
These are not the words of the Nation of Islam but the words of the very first president of the Southern Poverty Law Center's founding president and life Long Board member, until his passing  in 2015. What happened to the relationship between the Southern Poverty Law Center's founding, which was to defend the voiceless and give aid to those disenfranchised by a racist and xenophobic system? As you can see the SPLC stated that the teachings of the Honorable Elijah Muhammad were respectful and good for Black people to become productive citizens of America and ultimately, productive citizens of the world. What happened to this critical observation by such a prestigious institution in 1971? It is hypocritical of the SPLC to state anything other than the truth about the Nation of Islam as a tool of hope, security and inspiration.
During the 60s, and until the time of this writing,  the FBI and the CIA have also done an extensive and thorough analysis of The Nation of Islam and every Black Nationalist Movement in America (FBI SAC letter, # 55-43). The very explanation of our teaching as a "subversive cult" was predicated on the fear of a "Black Overthrow" of the United States Government. This fantasy of paranoia is from a self analysis of one's own cognitive thinking. It is the United States Government who has fostered the overthrow of every black and indigenous government that does not capitulate to its will. The Nation of Islam does not possess the desire nor the history of such a threat to the United States of America. Including more recently Iran and Venezuela America has subverted Libya, Iraq, Central Congo, and by its own admission, every Black organization ever created in America including the Nation of Islam.  There has never been a plan or desire of  the Nation of Islam to kill or commit acts of violence against anyone.  The Nation of Islam prohibits its membership from carrying weapons on our person or storing them in our homes. The truth is our weapon of choice.
The basis of the teachings of the Nation of Islam is "Self Improvement", as accurately illustrated by the founding president of the Southern Poverty Law Center, Julian Bond, in 1971. There has never been any terroristic attack against anyone by an active member of the Nation of Islam. Instead, the Nation of Islam continues to the recipient of the financial sanction of the intimidation of such groups as the SPLC, the ADL and B'nai Brith.
Amazingly enough, scholars such as University of Windsor Professor Martha F. Lee, who is white, contributed to a book titled "Violence and New Religious Movements" as edited by James R. Lewis. Her findings about the Nation of Islam are as such:
 "In many ways then, the Nation of Islam provides a case study and how a religious movement with a radical belief system did not engage in violence related to its doctrine. "  -Professor Martha f. Lee, University of Windsor.
There are those who would like to equate criticism and rebuke with hatred. This is a manipulative psychological device. It is called "hate speech" when Minister Farrakhan holds the Jewish community accountable for their wrongdoings to Blacks and the Palestinians.  Calling the Minister a hater and a bigot is just a way to cope with the stinging fact based rebuke the Minister boldly delivers.
Violence and TRUE hate is raging supreme in America.  In 2018 there was a meeting between ethnic groups and various religious organizations in America who have witnessed an urgent need for the FBI to take measures to protect the citizens from a very real an existential threat of White Nationalists.  In a letter dated March 18, 2018 to the Director of the FBI Christopher Wray, at that time, by many American ethnic groups requesting a meeting to deal with, this terroristic violence in America.  Deputy Director Naheed Qureshi  of Muslim Advocate wrote:
 "We, the undersigned national civil rights and faith-based leaders, write to express our deep concern regarding recent attacks against our houses of worship and communities.  We request an urgent meeting with you to discuss the role of the Federal Bureau of Investigation (FBI) in addressing the threat to public safety and our communities by white nationalist violence.
Attacks against houses of worship in the United States have been far too common in recent years. For example, in 2012, white supremacist Wade Michael Page murdered six and injured four, when he stormed a Sikh gurdwara in Oak Creek, Wisconsin. In 2015, Dylann Roof, who spewed deep racial hatred and espoused white nationalist ideals, entered the Emanuel AME Church in Charleston, South Carolina, killing nine individuals. In 2018, Robert D. Bowers burst into the Tree of Life Synagogue in Pittsburgh, Pennsylvania and shouted anti-Semitic slurs, killing 11 worshippers. This hate manifested itself again last week in New Zealand, when Brenton Harrison Tarrant live streamed his attacks against Masjid al-Noor and the Linwood Mosque in Christchurch where he murdered over 50 people and injured many more. Tarrant too, was a virulent white nationalist, and even cited Roof as an inspiration in his manifesto."
Last year, the FBI reported a 17% increase in hate crimes overall since 2016, marking an increase for the third consecutive year in a row. Given the enormous threat of hate violence to our communities and our nation, we request that you meet with us along with our partners in the civil rights and faith communities to discuss the FBI's role in protecting houses of worship, our communities, and all Americans."
As you can see, the Nation of Islam poses no threat to anyone. The Nation of Islam has been the true defenders of those who have no voice. While I can appreciate the aim of the SPLC and the ADL to protect the Jewish people from any potential existential threat, we will not be silent and allow these nefarious groups to lie and deceive the public as to the true record and intentions of Minister Farrakhan and the Nation of Islam. Minister Farrakhan has directly, and through his representatives like San Diego's Muhammad Mosque No. 8 Student Minister Abdul Waliullah Muhammad, put forth numerous requests for a public debate with all of those who falsely accuse us of hatred and bigotry.  And none of these groups have accepted the more than reasonable request to face us in the sphere of public debate.  Their refusal to argue the issues in a public forum, where representative s of the Nation of Islam are present to defend our history and rebut their lies, is the clearest sign that these groups aren't interested in the truth, only political propaganda.
This challenge was put forth publicly during the anniversary of the Million Man March in October 2018 by the Honorable Minister Louis Farrakhan. Instead of assassinating the character of Minister Farrakhan,  the SPLC needs to be concerned with the white Nationalists who continue to terrorize everyone in America. Today, we are mourning the death of yet another senseless mass shooting on behalf of another citizen in the city of Virginia Beach. None of these attacks have ever been committed by a member of the Nation of Islam.  Mr. Wagner or other ADL and SPLC representatives should accept Minister Farrakhan's request for a public debate of the issues.
The article written by Ms. Kristina Davis that continues to characterize the Nation of Islam as a hate group should be retracted and corrected. Investigative journalism into the unsavory and criminal history of the ADL and the SPLC would be of great interest to your readers.  That kind of article would demonstrate the San Diego Tribune has some measure of objectivity.  If you investigate these groups, you will find that these very groups who castigate and falsely label others as haters and bigots are rife with criminal conduct themselves. As far as the Nation of Islam goes, either report the truth about us or don't report anything about us.  Leave us alone to do the work of redemption and restoration among our people that Allah (God) has called us to do.