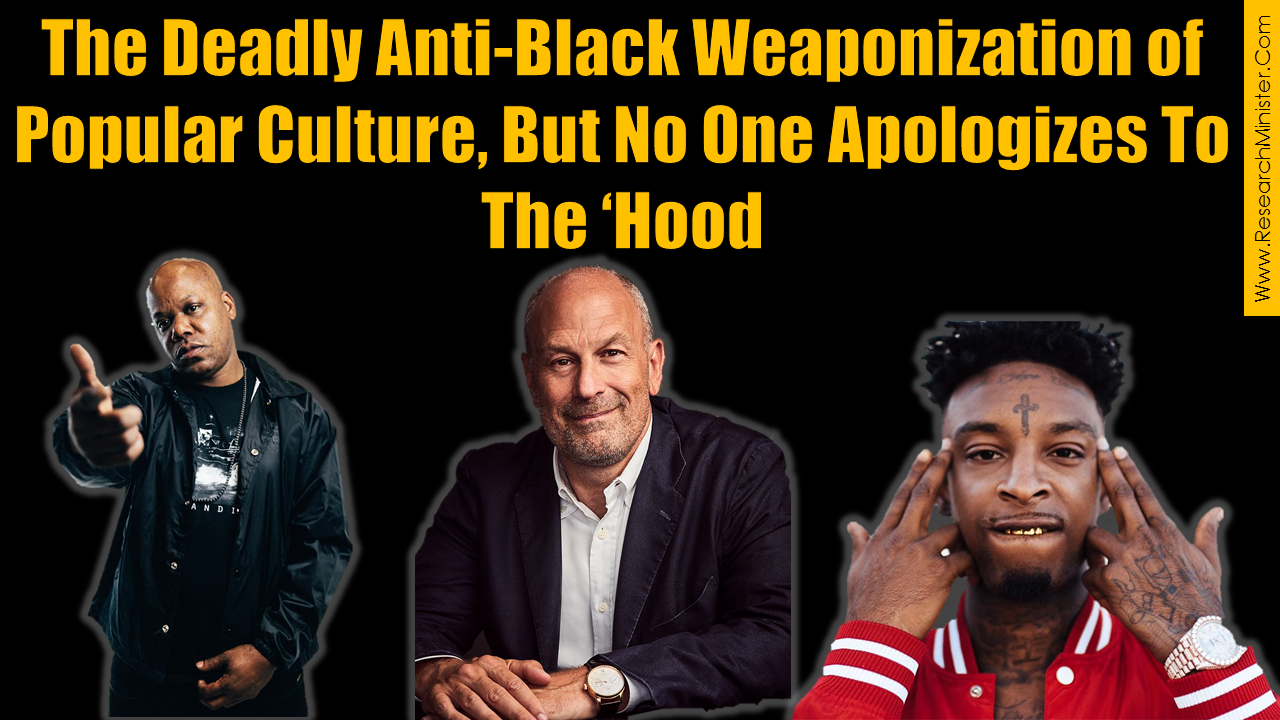 The Deadly Anti-Black Weaponization of Popular Culture, But No One Apologizes To The 'Hood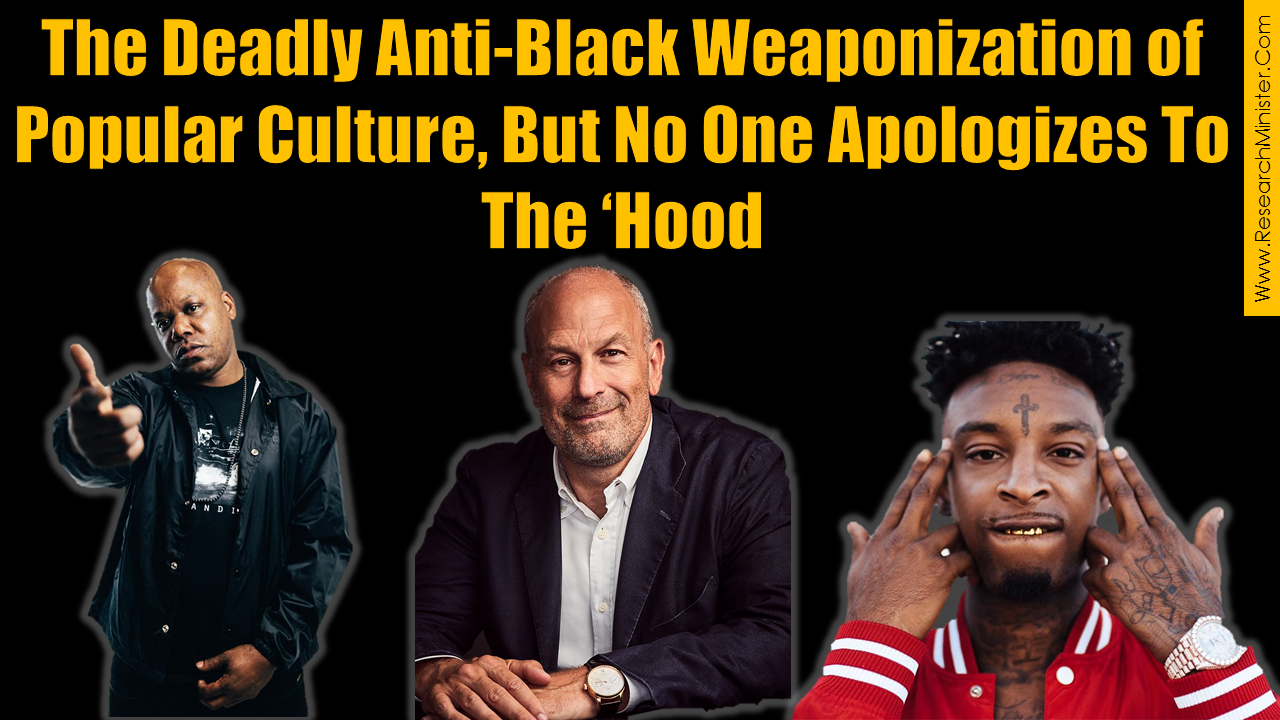 I read recently that a mention and reference to "jewish money" by Basketball great and philanthropist Lebron James had caused both he and the rapper 21 Savage, to offer apologies to those in the Jewish community who were offended.  Certainly, it is a quality of being a good person that when it is made known that we have offended someone unintentionally, we should be quick to apologize.  I think both these brothers are good brothers who mean well.
But this whole season, where there is a hyper-sensitivity to criticism of the Jewish community, where that criticism is  being falsely labeled as anti-Semitism, makes me think that the good hearted nature of these and other prominent Blacks is  being abused by Jewish groups who are insincere.
For example, I read once where there are many Jewish executives and business people who are in powerful positions inside the music industry, especially Hip-Hop music.  This is a problem because it is widely known that the ideas, images and expressed behavioral norms that predominate Hip-Hop in the current era, are by and large negative and self-destructive.  It begs the question, that if it is appropriate to apologize for alleged offenses of anti-semitism, then shouldn't there be apologies to the Black community by both artists and music industry leaders for their creation and distribution of harmful forms of entertainment?
According to West Coast Legend and Hip-Hop Icon,Too Short, he was moving in the direction of changing his lyrics to publish what he called a "positive" or "uplifiting" album that he believed would be good for the community and a departure from some of his earlier work.  But music executive Barry Weiss encouraged him not to do it:
"And, I'm not gonna blame this on anybody, but I was actually being pushed into a direction where I would talk to people at Jive [Records], I would go talk to the President, Barry Weiss, and he was like – I always wanted to do these [side] projects like the E-40 duet album, which was one they never would let me do.
I wanted to do a whole album of positive Too Short songs, just to keep that balance. I had made a verbal deal with Barry Weiss, where he was like, "Right now would be the perfect time, you should do like the raunchiest Too Short album ever – the album cover, the songs, just do a dirty fuckin' Too Short album." This is the executive running the company advising me to put out an entire album of just cursing and sex."-Too Short
Rapper Mos Def in his song The Rape Over blasted those who control the Hip-Hop Music Industry for a callous wickedness that has become pervasive.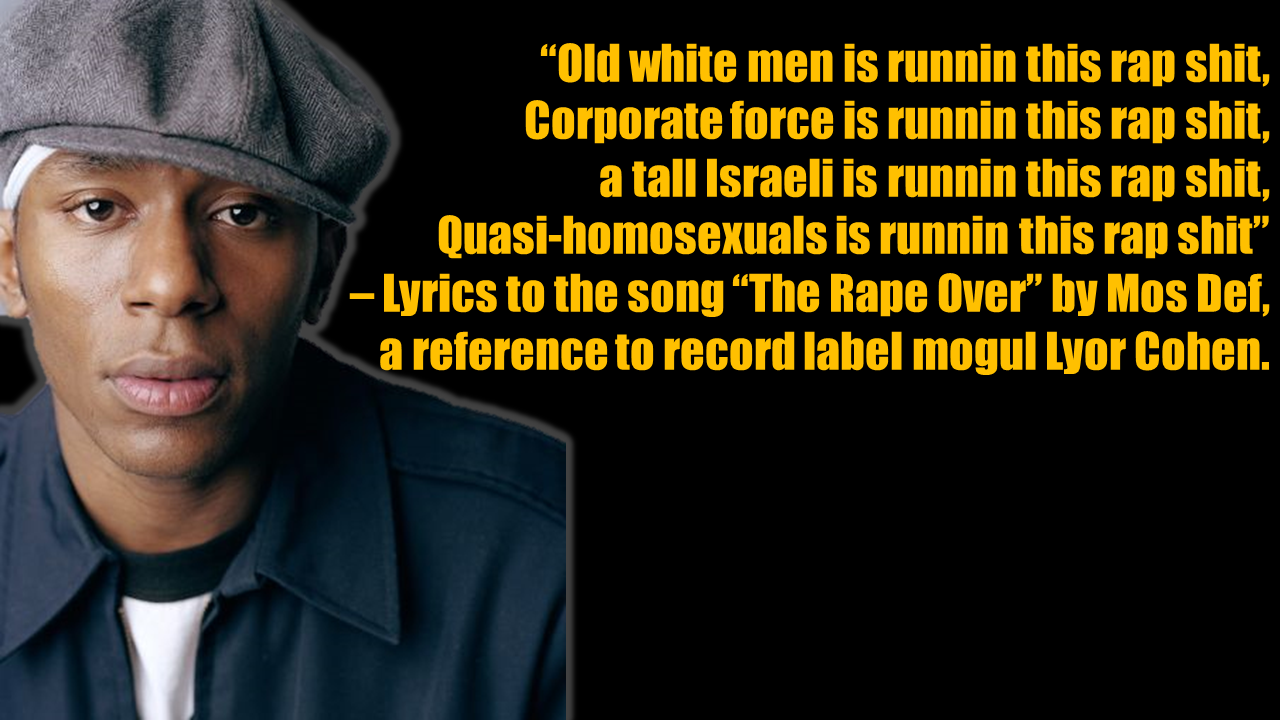 A study of the contents of popular music for the Archive of Pediatrics and Adolescent Medicine called : A Content Analysis of Tobacco, Alcohol, and Other Drugs in Popular Music shows that Hip-Hop music contains the most significant percentage of references to drug use than any other musical genre.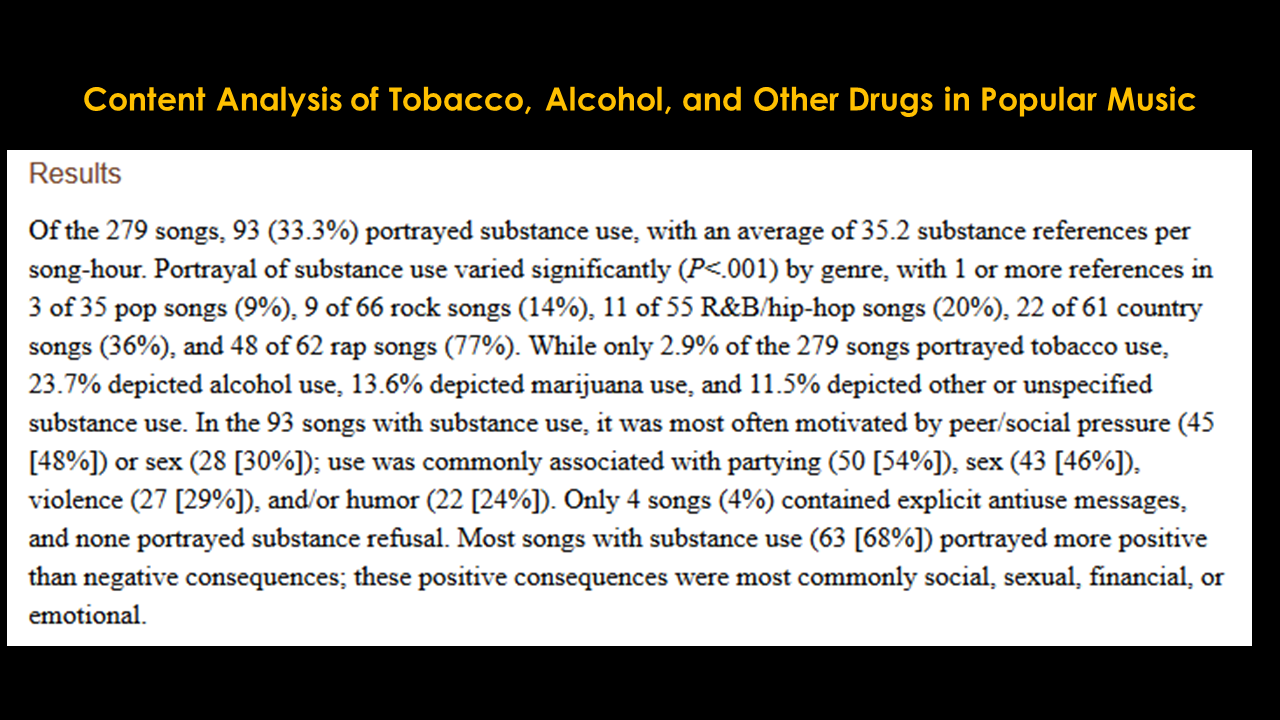 This study concluded by revealing how much young people are exposed through music to celebrations and references to drug use:
"The average adolescent is exposed to approximately 84 references to explicit substance use daily in popular songs, and this exposure varies widely by musical genre. …Although the influence of music on human beings was recognized even before the time of Shakespeare, current technological and social changes dramatically magnify that influence. While 15- to 18-year-old adolescents are forming health attitudes and behaviors that will last a lifetime, they are exposed to 2.4 hours of music per day, according to a large nationally representative study. There are few limits to access; 98% of children and adolescents live in homes with radio and CD or MP3 players, and 86% of 8- to 18-year-old children and adolescents have CD or MP3 players in their bedrooms. These figures have increased substantially even over the past decade.
There is convincing evidence that exposure to certain media messages increases substance use in adolescents.  For instance, viewing smoking in movies prospectively predicts a substantial proportion of adolescent smoking initiation. Similarly, exposure to smoking-related media promotions is associated with smoking initiation. Alcohol use in movies and promotions is also linked to actual alcohol use.
While the most frequently studied genres for this research include movies, television, and advertising, health behavior theory strongly supports a link between music exposure and substance use. According to the social learning model, human beings learn not only by direct experience but also by exposure to modeled behavior, such as that represented in popular music. This theory further suggests that individuals exposed to representations of substance use would be more likely to perform those behaviors themselves if they are linked with (1) motivations that are relevant, (2) associations that are desirable and familiar, and (3) consequences that are positive. Music is well-known to connect deeply with adolescents and to influence identity development, perhaps more than any other entertainment medium.
In addition, prior work suggests that references to substances of abuse in music are common. Several years ago, a content analysis published by the Office of National Drug Control Policy showed that multiple messages related to substance use are present in music lyrics and music videos. Of the top 1000 popular songs they studied, 18% referenced illicit drugs and 17% referenced alcohol. Another report found that, of 258 popular music videos, 20% verbally referenced illicit drugs and 37% displayed alcohol. In every case, marijuana was the illicit drug most commonly represented.
However, to our knowledge, no comprehensive content analysis of substance use in popular music lyrics has been published in the peer-reviewed medical literature. Furthermore, popular music is rapidly changing, and it has been more than a decade since the previous data described were collected. This is a particularly important omission because popular music exposure is increasing among young people. Finally, a more comprehensive and theoretically based content analysis may more completely capture relevant factors, such as the motivations, associations, and consequences associated with substance use in popular music."
At the same time that we have witnessed Black Music become dominated by Hip-Hop music, we have seen Hip-Hop music become a toxic art form laden with the promotion of drug use and lyrics that serve as "pre-criminal conditioners" that are designed to feed the infamous "school to prison pipeline." Simultaneously being developed has been military scientists' making ground breaking advances in the use of  culture as a weapon.
Author Rochelle Dean discusses how foreign theaters of war are becoming testing grounds for new military sciences that weaponize the culture of a people against them.
According to Dean: "At the fourth Culture Summit of the US Army Training and Doctrine Command (TRADOC) in April 2010, Maj. Gen. David Hogg, head of the Adviser Forces in Afghanistan, proposed that the US military think of "culture as a weapon system." The military, Hogg asserted, needs to learn the culture of the lands where it is deployed and use that knowledge to fight its enemies along with more conventional armaments. This conceptual and perhaps literal "weaponization of culture" continues a trend that began with the US invasions of Afghanistan and Iraq. Endorsed at the highest level by Gen. David Petraeus, head of Central Command, the Pentagon unit in charge of the greater Middle East, the idea of culture as a weapon grows out of the "'gentler' approach" to America's post-September 11 wars adopted after the departure of Secretary of Defense Donald Rumsfeld.
This approach is best articulated in the Counterinsurgency Field Manual, that Petraeus oversaw and that the Army released in December 2006.  In the Field Manual, this peculiarly military application of culture uses cultural anthropologists' definitions of culture as the behaviors, beliefs, material goods and values of a group of people that are learned and shared. The weaponization of culture posits that culture can be a crucial element of military intelligence, used to influence others, to attack their weak spots and, more benignly, to understand the others the military is trying to help. While scholars and military analysts have shown how "culture" was enlisted to play a role in the Vietnam war, today's wars are the first in which culture has been so clearly articulated. Maj. Gen. John Custer, commander of the Army's Intelligence Center of Excellence, describes this shift as "a tectonic change in military operations."
Professor Robert McChesney has studied pop culture for many years and he has described that there is a both military mindset and a colonizer mindset that makes up the philosophy that rules the pop culture industries.  He writes:
"You should look at it like the British or the French empires in the nineteenth century. Teens are like Africa.  There's this range that they're going to take over, and their weaponry is films, music, books, CDs, internet access, clothing, amusement parks, sports teams. That's all this weaponry they have to make money off of this market, to colonize this market. And that's exactly how they approach it. So they look at music as just one small part of it. They aren't music companies; they're moneymaking companies, and music is a weapon that generates money for them." –Robert McChesney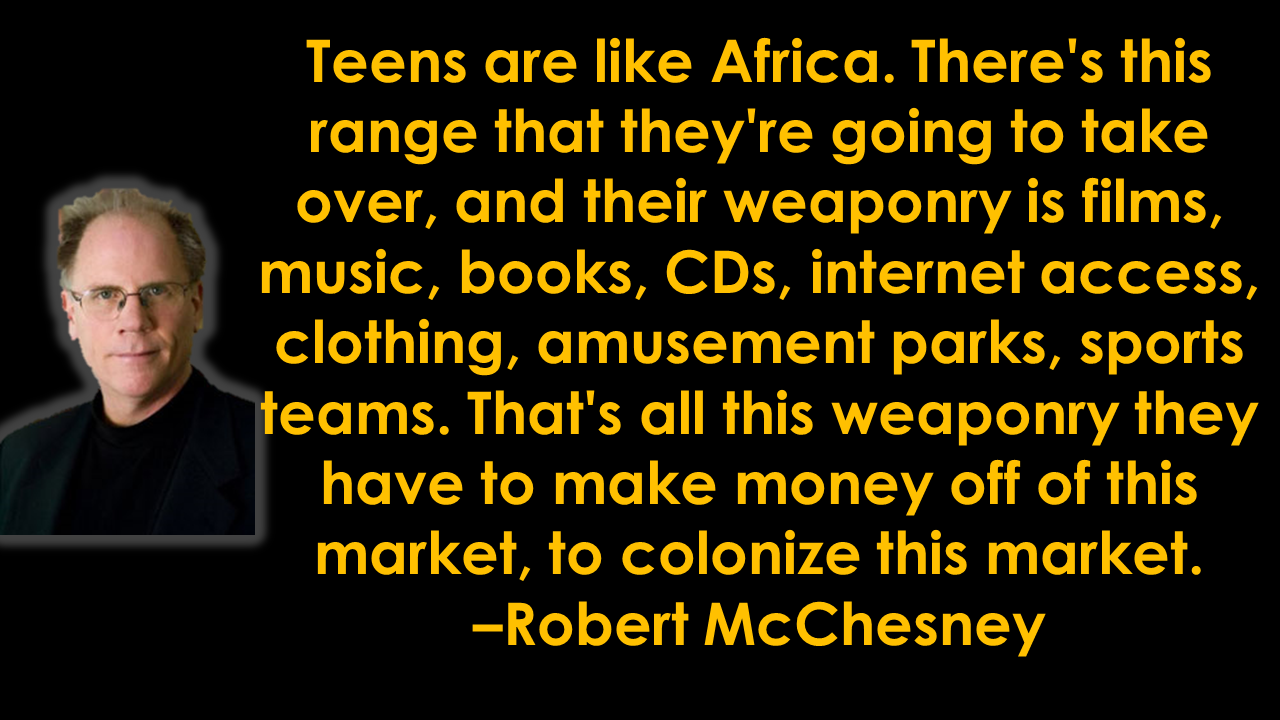 It becomes quite clear when we look closer at music trends and trends in popular culture, just how dangerous it is for those outside the Black community to be in control of our music and culture.  One would think that Jews in the music industry would be guided by the principles of the Torah.  The Torah says that music should be about the praise of God and the promotion of righteousness.  Yet powerful Jewish music industry moguls such as Lyor Cohen, Edgar Bronfman Jr., Barry Weiss, and the late Jerry Heller have presided over a musical form of expression that is in total opposition to the ideas of music found in the Torah.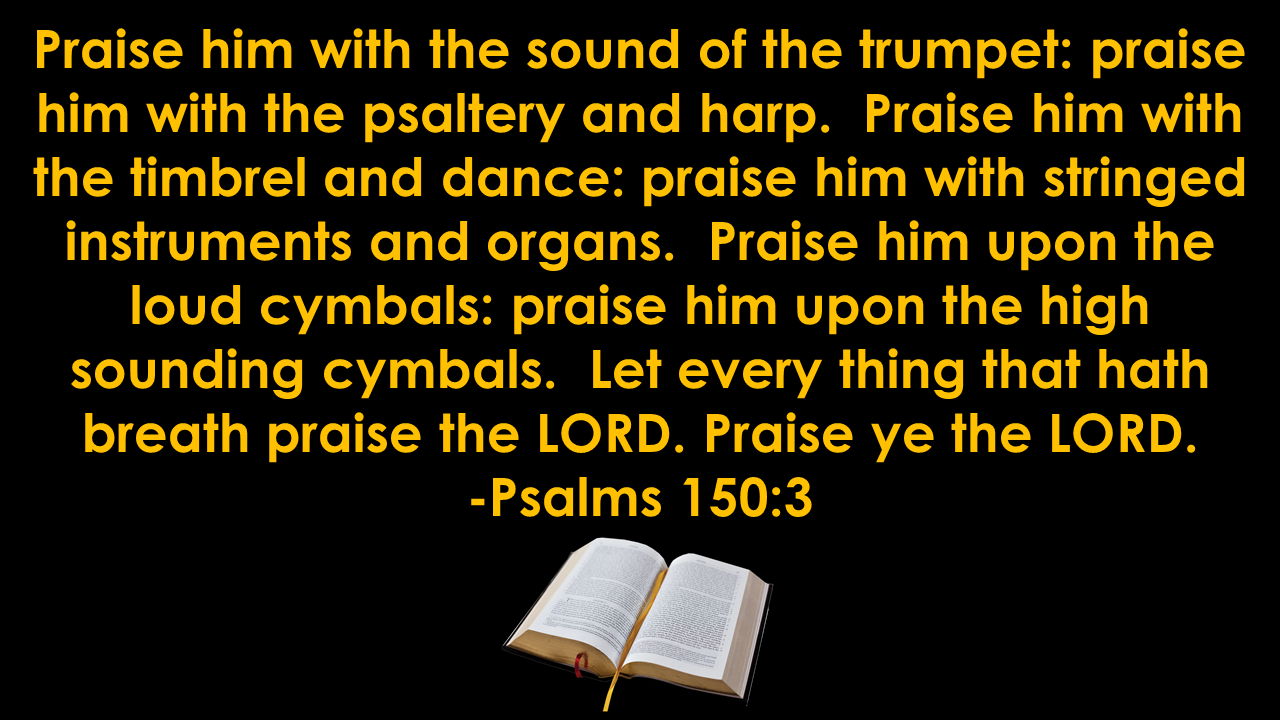 It has been reported that Sony, Universal and Warner are the big 3 music companies that control as much as 75% of the music that is distributed.  It is also reported that Edgar Bronfman Jr., Lucian Grainge and Rolf Shmidt  who head these respective companines are members of the Jewish community.  One wonders, how they reconcile their promotion of this particular kind of music to Black, Latino and poor White youths that is so negative and  destructive; the same music that is frequently identified as being responsible for the the "implicit bias" that conditions and shapes attitudes of Police Officers who police in neighborhoods where Jewish controlled Rap Music is predominant.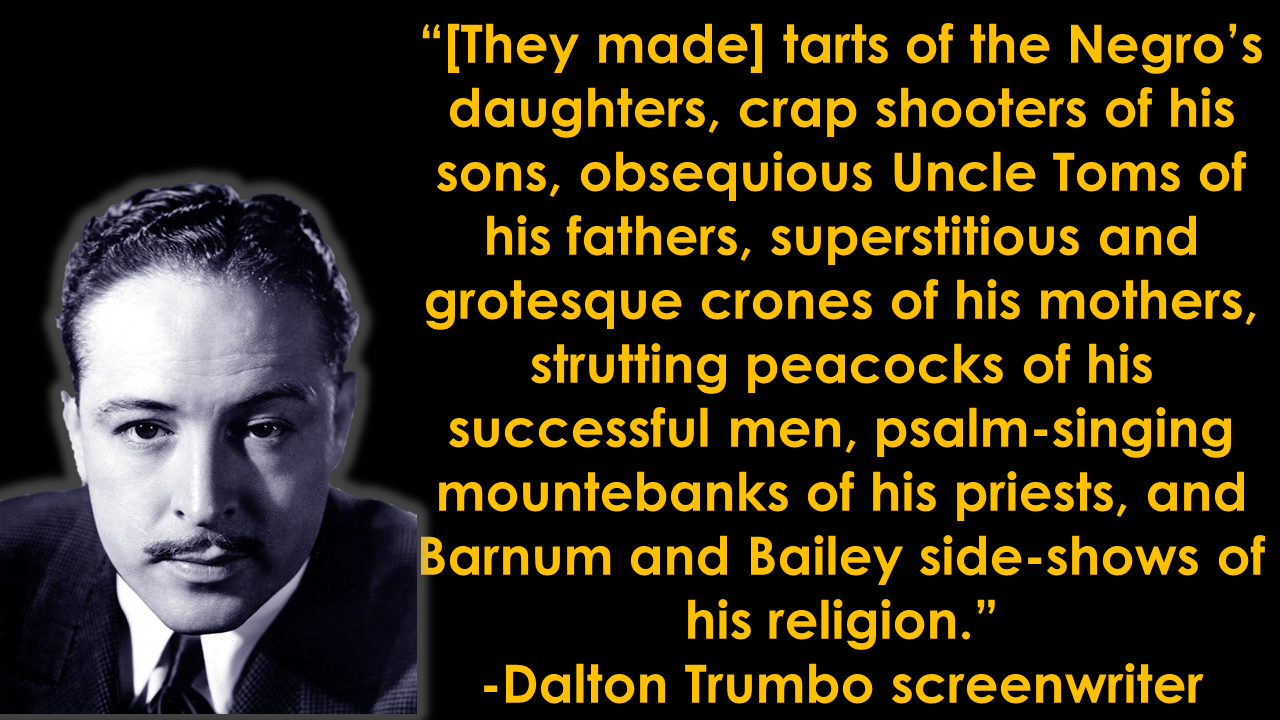 I think that if Black artists and entertainers are going to be called out to apologize for statements that the Jewish community has deemed to be insulting and anti-Semitic, they should also have frank conversations with those who are the developers and distributors of the "Black music" that is not only insulting to us, but is helping to fuel our community's downfall.  The artists should insist that popular culture be stripped of all expressions that portray negative stereotypes of the Black community.  The artists should unite and examine how Jews are portrayed in music and in film.  They should take the posture that if it is not good for the Jewish people to be portrayed as drug users, "baby mamas", pimps, prostitutes, strippers, gang bangers, dead beat dads, corrupt businessmen, etc. , then these kinds of negative portrayals are no longer appropriate for Black people.  If terms like "kike" are unacceptable, then the term "nigger" is equally unacceptable. If we don't promote negative images of Jewish youth, then we must cease to promote negative images of Black youth. True equality says to us that if  anti-Semitism is wrong, if anti-Jewish tropes, stereotypes and canards are wrong, then so are these same pejorative portrayals and references wrong when the Black community is the target. It is out of self-respect as a people, that we must insist that to be anti-Black is  to also be guilty of a  public sin that must be atoned for by all who promote and participate in it.